Smartcard and Signature Capture
Our Patented Technology Will Enable Your Business To Be Paperless
Find Out More: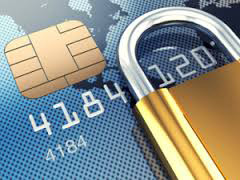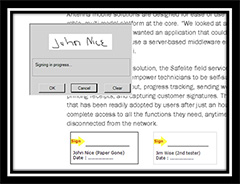 Accepting Credit Cards and Payment Processing
Builds a custom program for your bank or your business
Will certify and train your organization for PCI compliance
ExpoTech will provide the technology for your organization to connect to our cloud system hub & integrate your systems with cards providers
All major credit cards: Visa®, MasterCard®, American Express®,Discover®, Diner's Club, JCB
Signature Debit Cards and Prepaid, authorize (bank account)
Digital payment solutions: Apple Pay, PayPal
Accept international transactions from customers worldwide. However, your business must be based in the United States, Canada, United Kingdom, Europe or Australia
Payment Security/Authorize Compliance
Simplify your PCI DSS compliance by storing sensitive customer data on our secure servers using our hosted payment form or payment tokenization
With ExpoTech, your customers can be confident their data is secure
Fraud Prevention, identify, manage and prevent suspicious and potentially costly fraudulent transactions with our exclusive customizable, rules-based
Advanced Fraud Detection Suite™ (AFDS)
Address Verification Service (AVS), Card Code Verification (CVV2)
Support for Verified by Visa and MasterCard
Automated Recurring Billing™ (ARB) for automatic handling of fixed online subscriptions
Customer Information Manager (CIM) for dynamic recurring billing (you bill your customers different amounts or on different days each month)
POS Systems
Point-of-sale processing equipment is ideal for merchants who want almost instant authorization for credit cards, debit cards and checks. ExpoTech-Pay has a variety of systems from which to choose.
Secure Hosted Payment Gateway
ExpoTech-Pay's secure payment gateway lets you accept all major credit cards, debit cards and ACH payments. Features such as reports, batching, returns and voids, and advanced management functions help improve business operation
PCI Certified
Compliance with standards not only protects your cardholder data and prevents theft, but it's also a requirement for any merchant who accepts credit cards for business. With ExpoTech-Pay advanced security features, including tokenization and end-to-end encryption (E2EE),you can be sure your small business and your customers are protected from potential risk.
For many business processes there is only one reason to use and keep paper:
To capture and save handwritten signatures. Using the signature application, businesses can now integrate handwritten signatures into an electronic document process.
Using a signature capture device, epad, epen, or a mouse, an individual can sign documents securely and electronically on a PDF document.
The document's contents are secured prior to signing, thus avoiding costly errors and extra work. The signatures, any necessary seals, such as notary seals, and the documents are secured together and encrypted. These are then filed electronically and the physical paper is eliminated.
eSignature enterprise a scalable application designed for large enterprises and their need for integration with legacy systems. Enterprise is site licensed and offers the same capabilities for signature capture, notarization and court filings. Using application interfaces and connectors, Enterprise integrates with existing applications and secures document content and signatures. The application is installed on the client's server infrastructure and deployed throughout the enterprise.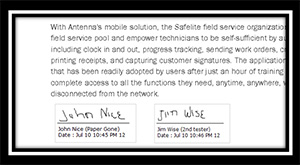 We are proud to share with you this technology to help you customize the process flow that move the company into a paperless environment. If an organization has existing epad technologies and software, that investment in hardware and software and implements a completely integrated solution. At the core of eSignature is patented technology and the guarantee of a secure document and legal compliance. The application is all you need to meet your electronic signature and document management requirements. No monthly fees, or per signature charges to worry about. One quick installation of the software allows you to secure and tag any document, send it for signatures, notarize (if necessary), and file electronically and securely. Transactions complete themselves faster, cheaper and safer. You can improve service, increase security and reduce costs using our application.
This application is necessary for an enterprise to automate electronic signature capture associated with every aspect of the business: Contract Management, Human Resources, Legal, Training, Certifications, Requests/Approvals, field management, POS, billing.
Every process can be automated, saving the enterprise time and money. eSignature solution is certified for use with a mouse, i-pen, and epad.
The software is offered for sale as a shrink-wrap, single workstation solution, and as a server solution for small business. There are two components to the software. Tag software is used to prepare a document for signature capture. A document is imported, signers are identified and signature placement tags are placed electronically in the document to identify where a signature, a notary seal, or court stamp is required. The document is then saved and secured in a proprietary format that prohibits the document contents from being changed. Sign software is used to open the prepared document and sign it electronically.
Notary Using this product, a document can be notarized electronically. A notary tag is placed in the document, which is then sent to the notary for sealing. When the document is opened, the notary is prompted for the electronic seal and signature. These are then secured in the document.
Court Filings For attorneys, eSignature offers the ability to submit legal documents electronically to the courts. After the signatures are captured, the court clerk receives an email and electronically "files" the document with seal, date and time.
Legal Compliance eSignature is a legally acceptable method for capturing and securing electronic signatures in a document. The process emulates the real world of signing, and supports the need for multiple signers to a single document. This is the same approach used by state and federal agencies in their specifications for digital handwritten signature regulations. By designing the software so that data and signature are secured as originally authored, eSignature remains in compliance with the FDA Regulation 21 code, Part 11, Section 11.50. It is also in compliance with NRS 719 (Electronic Transactions), NRS 720 (Digital Signatures), GPEA (Government Paperwork Elimination Act), and NRS 52.
eSignature gives individuals and small businesses the ability to secure, sign and send documents quickly and electronically.
The process is simple. Open any PDF document using eSignature Tagging software. Add the names of the signators to the people list, then drag and drop them to the locations in the document where you want them to initial and sign. eSignature places a visible tag in the document and establishes a workflow for the signing process. After tagging, simply save the document in s-doc, which is a proprietary highly secured format. This ensures that the content cannot be changed by anyone. Email the document to the signers.
eSignature offers a free download of the signature software, so your clients do not need to spend any money to sign your documents. They simply download the software and sign using an epad, epen, or their mouse. The software tells them where to sign and guides them through the document.
eSignature is easy to send using any email system. It is easy to sign using any signature capture device, including a mouse. It is easy to send using any email system, and it is entirely compliant with all of the legal requirements of ESIGN and UETA, making it legally enforceable.
Mobile eSignature combines elements of Enterprise and eSignature. It is a complete solution for a remote workforce, offering signature capture, document management and storage, and the distribution of location specific content.
The application integrates with inventory and POS systems, processes credit card and check payments, and electronically captures the customer's signature. It also provides real time productivity and job completion information through a visual display of the field route and electronic transmission of the data.
---
---