---
Business Partners
Not Just Clients
"We create opportunities to enable our partners to compete in a constant world of change by executing technology flawlessly and consistently. ExpoTech is committed to your success to help you transform your business and create excellent experience for your customers."

CEO
Custom Enterprise Software
We deliver tailored enterprise applications that address your business needs and meet your specifications. We have experience in creating software that improves content management, business process automation, e-Commerce, and employee collaboration. Our developers are able to leverage their experience with Agile software development to increase your competitive advantage.
Software Integration
Daily operations at large enterprises are often supported by a mix of SaaS and on-premise third-party applications. ExpoTech Inc. offers development of comprehensive Enterprise Application Integration solutions which allow for a mobile-first approach with custom mobile UI, API and microservice development, data integration, as well as workspaces, portals, and mashups.
Legacy Application Modernization
Outdated enterprise applications often cause employees to spend more time working around limitations. ExpoTech Inc. can provide your business with a team that will perform comprehensive technical analysis and optimization of the features that comprise your legacy solution, offering enterprise application development that will use the latest tools and technologies. Your users will be happier and more productive, and your IT operations team will sleep better.
Application Portfolio Consolidation
Very few companies develop completely through organic growth. Frequent mergers and acquisitions often leave organizations with a wide variety of solutions. ExpoTech Inc. can help your business consolidate these solutions, combining their benefits to increase your IT Operations, minimize costs, increase employee efficiency, and optimize user experience. Our team of analysts and developers could consolidate, integrate, and refactor your enterprise applications as necessary, all the while moving them toward modern software stacks and cloud hosting.
Our Workflow
Discovery & Analysis — A qualified team of system-analysts and consultants observes your current solutions, discovers key problems and opportunities for improvement, developing a road-map based on your business needs.
Development & Testing — Qualified developers with niche expertise, develop, test, and deliver a turnkey solution for your enterprise.
Implementation & Support — ExpoTech Inc. aids you in implementing the new software into your daily business operations, providing thorough support and maintenance of your software.
Technology
We rescue failed SAP implementations. If you have implemented or have had someone else implement SAP and have not seen the results you expected, our team of experts can work with you to correct the SAP workflow of your company.
We have a proven proprietary methodology to drive performance, increase efficiency, and deliver excellent business value for our clients.
ExpoTech Engineering Inc. is here to fix all of your IT and SAP problems. Contact us about ERP, CRM, Application development, business strategies, systems design and more for your company today.
---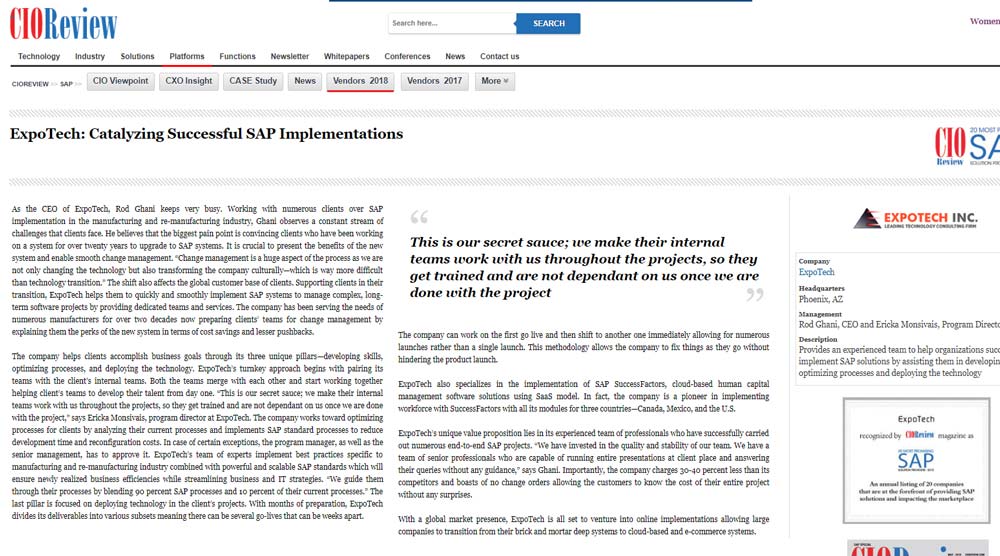 ---



Achieving operational excellence
Align business and IT goals to optimize cost and improve business agility
Build functional IT services that are scalable, secure, andreliable
---
Our

Vision
ExpoTech will be your trusted partner to leverage the value of emerging technologies, optimize costs and increase efficiency.
Our

Mission
ExpoTech is committed to your success to help you transform your business to create an excellent experience for your customers.
---
---